Background
| | |
| --- | --- |
| Location | Mleiha, Emirate of Sharjah, United Arab Emirates |
| Service | Polymer Stabilisation and Sealing |
| Products | GRT7000 & GRT9000 |
| Duration | December 2015 – January 2016 |
| Status | Completed |
As part of Sharjah's government's major vision to turn the Mleiha Archaeological sites into a tourism destination, various crucial dust suppression and soil stabilisation projects were developed. These projects would require stabilization and sealing of surrounding natural in-situ surface materials to produce a road network that connected all nearby archaeological sites to the proposed main centre and surrounding areas. According to the Sharjah Investment and Development Authority (Shurooq), about Dh250 million (AUD ~98 million) would be invested in this archaeological and eco-tourism project.
Shurooq is an organisation that believes the Mleiha Archaeological Centre to be more than just another tourist destination; they strongly desire their visitors to not only have an unforgettable experience but for it to also be a relaxing and educational one. They want to provide visitors with the opportunity to "step back in time" and learn about past settlers through not only knowledge but also through experiencing the sites where they lived and died.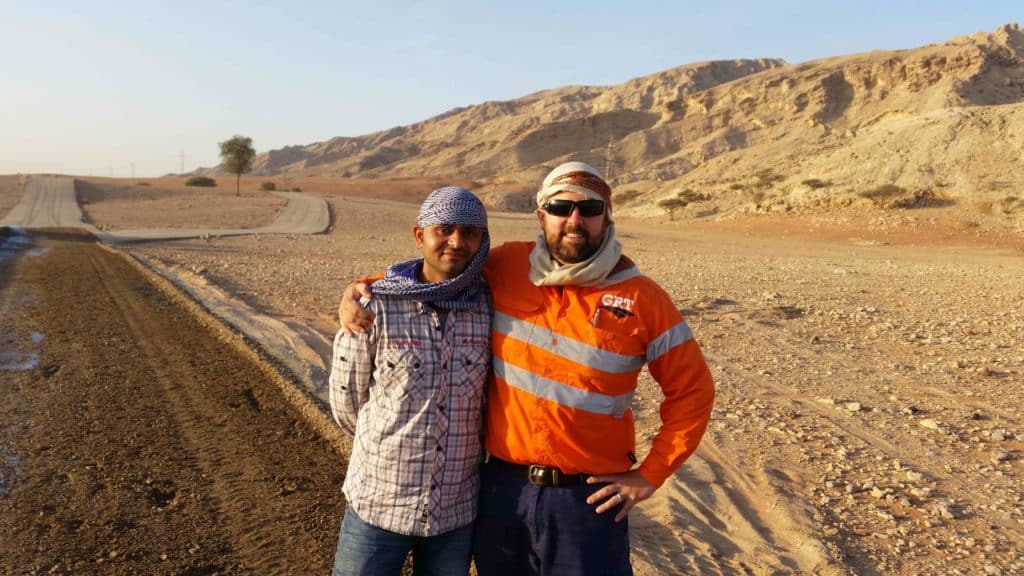 Are environmental regulations, health and safety concerns or potential profit loss a concern right now?
The sites surrounding the Mleiha Archaeological Centre contain not only the tombs of important figures that died in Mleiha but also their cities' complicated fortification network. Within the tombs of important figures contained their most cherished treasures such as their pottery, jewellery, gold, and swords – all in preparation for the after-life. On some occasions, the deceased figure would take their camels and horses with them. Over 300 skeletons, including those of horses and camels, have been discovered at the sites with some findings dating back more than a million years ago and pre-Islamic times.
Maleha (the modern town) is considered as one of Sharjah's major central regional towns as it connects its east coast to its west coast. The Mleiha project would greet a new road network that would connect the archaeological sites to Sharjah's cities, which in response would welcome an increase of both heavy and moderate vehicles. The increase of vehicle traffic would create dust and soil stabilization problems, which would inherently affect the connection roads in the longer-term.
Furthermore, as the Archaeological Centre's carpark was susceptible to dust problems and structural damage from constant dust storms and changing the weather, modification of the carpark was enforced. This would also prevent potential safety hazards whilst providing a functional and natural looking carpark that blended with the surrounding natural environment. As it is vital that this project was completed environmentally friendly and economically low-cost, GRT was the perfect company to undertake this task.
Due to this project being located internationally in the UAE, several assessments of the site were completed by GRT engineers' weeks before initial construction. With the soil and natural composition from the site being different from those from Australia, these assessments would intrinsically help determine the most suitable product/s for this project. In addition, these assessments would assist in the meticulous planning that would ensure regulations and standards of the UAE were met, whilst ensuring potential health, safety, and environmental risks were realized, managed, and mitigated.


Challenges
In this crucial project, there were two major challenges that the GRT team were required to solve. The first challenge was the road network (both major and minor access roads) that connected the archaeological sites to the main centre and to the surrounding cities. As this road network would welcome an increase of both heavy and moderate vehicles (i.e. service trucks, buses, and local traffic), severe dust problems would inherently be introduced. These dust problems would be generated in much greater volume, affecting all that travel on those roads.
Furthermore, with the soil composition of the sites tested to have weaker soil bonds, these roads would undoubtedly be susceptible to potential failing pavements with increase traffic volume due to tourism and new connection roads. Failing pavements would pose a safety threat and financial risk. With no road compaction or sealing, and constant dust storms coupled with additional increased traffic would indefinitely change the structural integrity of the road (i.e. road corrugation and potholes), making it unsafe to use.
In addition to the road challenges, there were various problems regarding the location of certain tombs and artefacts as many were yet to be discovered. With various artefacts and sites still being discovered to this day, there were substantial questions regarding how the new road network would be designed. Consequently, the landscape of the road network was modified as it was constructed to accommodate the discovery of certain artefacts, tombs, or relics that would occasionally be detected below the proposed road network.
Similarly to the road network, the car park and minor areas of the site (walkway, etc.) had dust and structural integrity problems that would eventually pose as safety risks to the people that utilized it. With no stabilisation yet to be provided for the carpark and minor areas of the site, corrugation and surface degradation consequences were easily formed with consistent utilization and weather changes. This meant that not only was the carpark susceptible to be unusable due to terrain changes, minor areas of the site were also unavailable for utilisation after weather events or constant utilization.

Solution
Through the completion of several road and site assessments on the Mlehia Archaeological centre and its surrounding areas, along with the environmental and economic impact consideration, the GRT team determined two products that were suitable for this project. While the GRT7000 was determined as the more effective product for the road network, it was concluded that the GRT9000 was the more suitable product for the full ground stabilisation.
GRT7000, a concept unique to GRT, was the recommended product for the road network, the carpark, and the minor areas of the site as it:
Provided exceptional road surfacing outcomes
Fit in the project budget
Provided a sealing that would safeguard itself from
Had long-term cost benefits from lower maintenance and repairs
Helped blend the applied areas with the surrounding environment
Met the strict environmental criteria imposed by the Shurooq organisation.
GRT7000 is a clear drying polymer emulsion sprayed on or worked into the surface of the pavement to provide a tough, waterproof, and dust free pavement surface.
With the soil composition of the road network, carpark, and minor areas potentially becoming a liability in the near future due to its structural integrity collapsing, the GRT team determined a full ground stabilisation project would be required. As a result of the contrasting purposes of the different areas (i.e road network would provide services for vehicles and minor areas may provide services for heavy equipment), the thickness of the soil composition would range from 50 mm to 250 mm.
GRT9000, GRT's most advanced polymer soil stabilization product, was the recommended product for this full stabilisation project as it:
Provided a high performing, low-cost pavement outcome – potential savings between 50% – 70%
Had long-term cost benefits from lower maintenance and repairs.
Utilises in-situ and non-toxic materials
Strength comparable to concrete slabs
Strength gains easily achieved between 2MPa and 6MPa
Benefits
The GRT7000 treated road network, carpark, and surrounding areas delivered high performing results in improved compressive strengths and water impermeability. All applied areas were also aesthetically pleasing as the stabilisation maintains the natural look of the in-situ material. With this project, the benefits and results gained were clear:
Dust elimination and its impacts (visibility, health, environmental)

The stable, waterproof sealed surface road

Environmentally friendly product

Road corrugation and potholing prevention

Long-term cost-effective product

Pavement cracking and corrugation prevention

Low carbon footprint product

Permanent soil stabilisation.
This product has been utilised globally by GRT for similar civil applications and other applications such as military, industrial, private, tourism and mining sectors.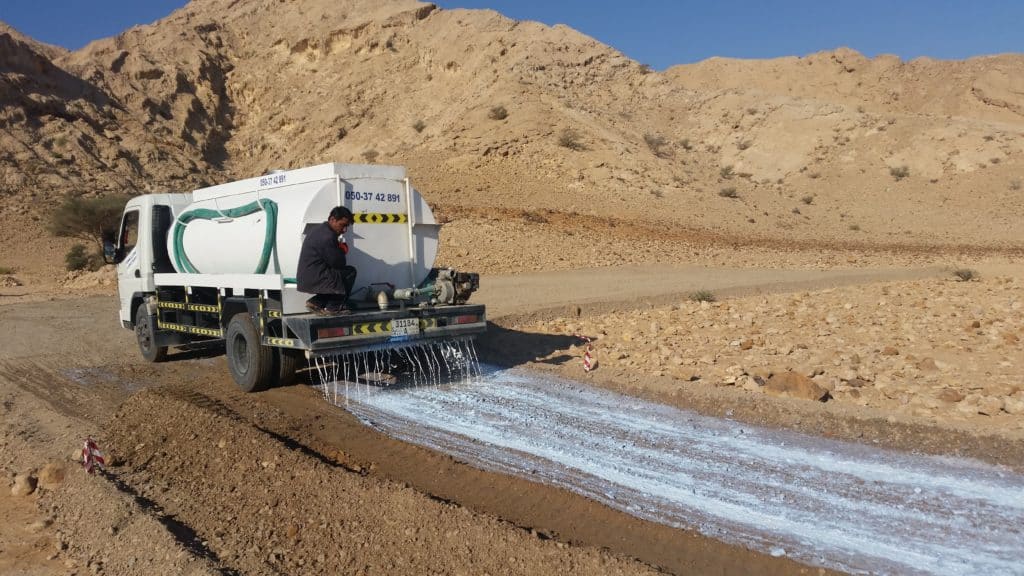 GRT9000, GRT's most advanced polymer soil stabilizer, was one of the recommended product for the car park as it:
Provided a high performing, low-cost pavement outcome

Strength comparable to concrete slabs

Had long-term cost benefits from lower maintenance and repairs.
GRT9000 is a cost-effective clear/ opaque polymer that creates hard, semi-flexible, and water impermeable pavement.