The current vehicles in the mining industry are huge consumers of fossil fuels. A standard combustion dumper truck uses approximately 50 000-100 000L of diesel every year depending on its usage. This equates to about 130-270 tonnes of carbon dioxide/yr. Over recent time the attitudes towards oil and gas have shifted, and will continue to shift as the cost (financial and otherwise) of oil and gas rise. As a result, there has been an increase in demand for clean energy, which has sparked major investment in electric, hydrogen and hybrid models of vehicles, including those specifically designed for industrial uses, such as those found in mines.
In this article will further examine the plant and vehicles that are the trailblazers that have been introduced into the market to "test the waters". The response to date has been pleasing for the developers and environment alike. With major sponsorship directed towards funding for R&D projects to further expand the production of vehicles, especially those used on a larger scale such as mines. The following products are the most recent releases of electric and combustion alternative technology currently released on the market around the world or are about to be released.
The Anglo American Dump Truck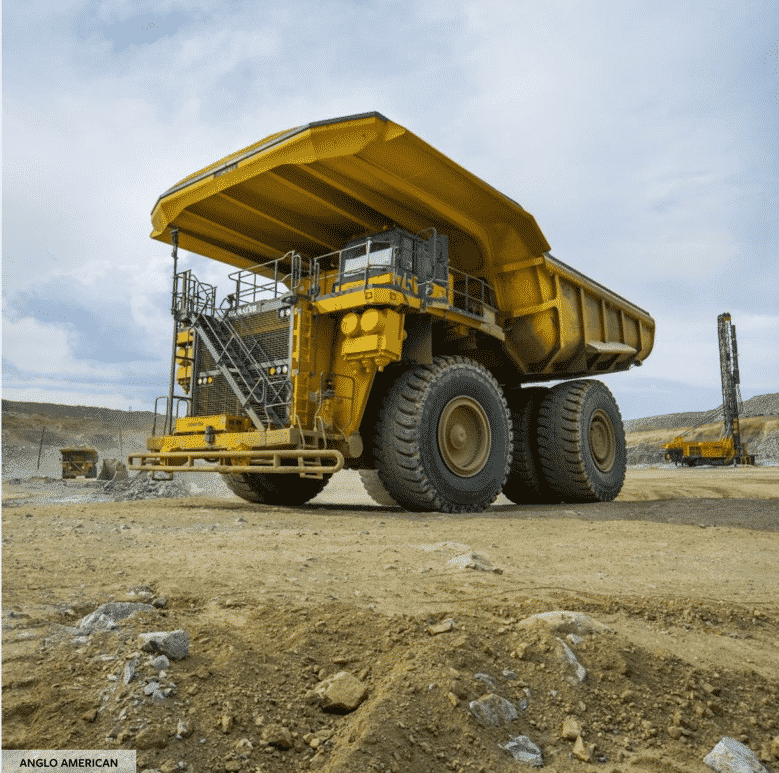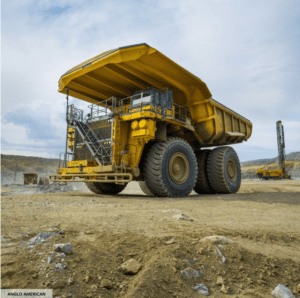 Anglo American in assistance with Williams Advanced Engineering has built the largest hydrogen-powered mining truck in the world. The 45 Tonne dump truck is a hybrid vehicle powered by both electricity and reserve of hydrogen fuel. It weighs an astounding 290 tons, but has a proprietary high voltage battery system. Altogether it has over 1000kWh of energy storage. There are also possibilities of introducing regenerative breaking through kinetic energy. The idea is based on simple physics. As the truck moves down a hill, this motion creates electrical energy for the battery as you brake. As the brakes are applied the electric motors inside reverse the direction to become generators. The motor harvests the kinetic and mechanical energy created to the truck's movement and transforms it into electrical energy, which is transferred to recharge the battery, which in turn can be used to drive the motor.
Onsite Vehicles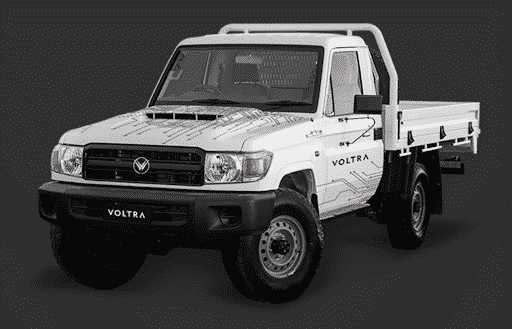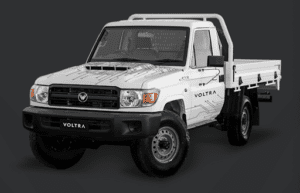 In the article previously released by GRT mentioned the Bortana EV. Another contender for the position of the underground mining transport vehicle is the Voltra eCruiser, which is also 100% electric. The eCruiser is a 4×4 light vehicle specifically designed for underground mining. It was designed and modelled after the robust Toyota Landcruiser 70 series, which is one of Toyota's best-selling series to the mining and construction sectors due to its practicality and reliability. The Voltra eCruiser has a zero carbon footprint, and like the Bortana has a minimal requirement for maintenance, which heavily reduces the cost of upkeep. As found in the Anglo American dump truck, the Voltra eCruiser also incorporates the latest regenerative braking technology, which significantly reduces the wear on service breaks and recharges the battery as it works. The total costs for utilising an electric vehicle can fall up to 20% compared to a diesel-fuelled vehicle, meaning it is environmentally friendly, economical and works efficiently.
Are environmental regulations, health and safety concerns or potential profit loss a concern right now?
A10 LHD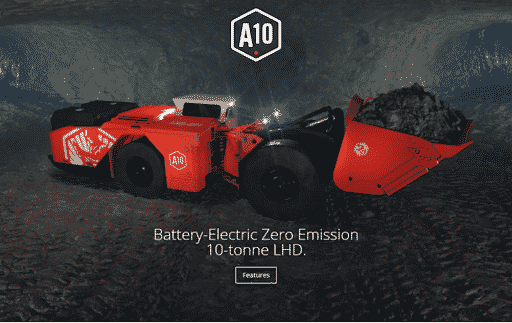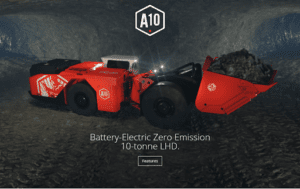 The A10 LHD is a battery-powered loader which was designed to be the size of a 7-tonne diesel loader but can carry up to 10 tonne, making this the most compact 10-tonne loader made in the world today. It has been inbuilt with more power than any diesel 10-tonne loader on the market today. Their revolutionary "PitStop" technology is based off an automated battery exchange system which completely eliminates the time for having to wait for recharging. Simply drive up to the second battery pack, and the automated system takes over. The used battery pack is removed, and the fully charged battery is installed within minutes. Whilst the empty battery is being charged, work can continue with no disruptions. The practicality of this machine allows for almost continuous work, increasing efficiency and productivity.
A4 Loader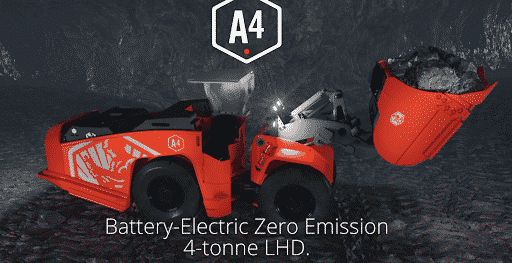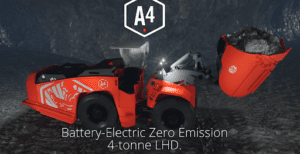 The A4 Loader produces 350% more horsepower compared to a 4-tonne diesel loader. The A4 has been rigged with 30% more load-bearing capabilities per bucket and loads quicker than most of the loaders on the market. The operating system is one of the best available, which has an almost instantaneous response time. The battery power system significantly reduces the cost of upkeep compared to a diesel engine. The technology that is built into the A4 loader has been tested and utilised in underground mines for over almost a decade. Over this time, there have been numerous adjustments, and tests to observe it in working conditions. The responses have been positive, as more have been rolled out for sale. With little to no heat generation, reduced risk to miners, and decreased costs in almost all aspects, this machine is a glimpse into the future of mining vehicles.
Minetruck MT42 Battery
The Minetruck MT42, is a 100% fossil-free mining truck released by Epirock. It weighs approximately 34.5 tonnes and has a 42-tonne load capacity. It is installed with a 399kW battery power pack. It has been featured with state of the art levels of safety measures, serviceability and operator comfort. To improve its durability it was installed with proven powertrain components that have gone through a multitude of tests in underground mine conditions. There is an onboard diagnostic tool with a machine status update to the driver, as well as a machine protection system.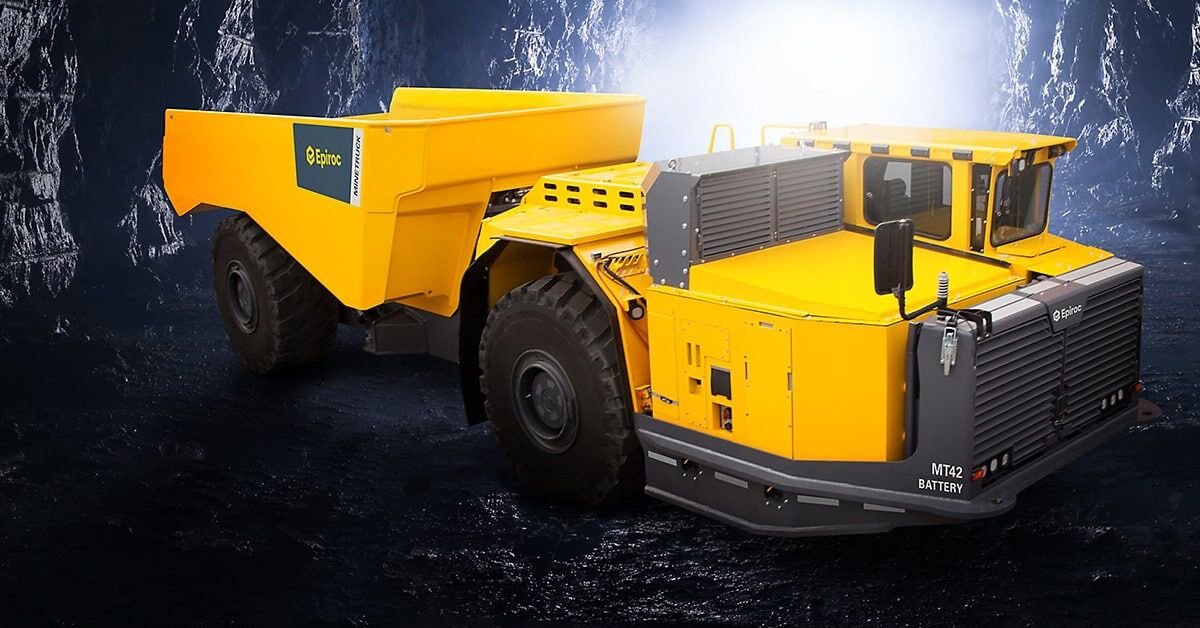 The Minetruck MT42 is filled to the brim with safety measures, productivity features and serviceability enhancements. There are articulation locks and cabin tilt for safe work on the machine. A high strength steel and an "optimized geometry" approach are the foundations of the truck It is inbuilt with a smart tailgate to increase its efficiency, and robustness in the underground mining environment. To further enhance safety precautions, the air, hydraulics and transmission filters are monitored constantly, and the operator is notified when replacement of the filters is required. This plant is perfect for the modern miner as it provides assurance that the miner is safe at all times, no emissions remove any risk to miners in and around the underground mine, and the heavy-duty characteristics of the machine allows for the work to be done efficiently and effectively.
Electric Vehicle Chargers
Now, I'm sure when it comes to investing in these new electric vehicles, there is a bit of hesitation, especially when it comes to vehicle rechargers. Especially when we are talking about mining vehicles such as the electric dumper that has a 600kWh battery. Logically speaking, with such a large-scale vehicle, there are bound to be challenges that come with it. As a consumer we ask ourselves, how long does it take to recharge a 600kWh battery? That is what ABB's 2MW electric vehicle charger hopes to resolve. Their usual "flash charge" that is usually utilised for commercial vehicle recharging is not practical in a mining context due to its numerous moving parts. However, ABB has collaborated with a number of mining vehicle manufacturers, such as Epirock, to release a new line of electric chargers, with charging capacities reaching between 1-2MW claim ABB.
However, the challenges that come with electric vehicles in a mining environment does not stop there, it is not only the vehicles, but the charging stations that must also be able to withstand high temperatures, insulating layer from dust, but also the conductive dust from the mineral dust. Many electronic vehicle manufacturers are struggling with these challenges, which has hindered many from releasing effective charging ports specifically for large scale mining operations. ABB claims, however, that their charger has been able to overcome the challenging conditions of mine environments, and efficiently supply power to their vehicles in said conditions. According to a recent report, their product will be released soon, which will likely see the onset of large scale purchasing of mining vehicles, not only in Australia but worldwide.
Powering Change
The future does look promising for the mining industry, as we see the market adapt to the new technology, and see the rise in demand as a result. Some companies seem to have found their footing in this new growing industry and have slowly begun to fill market demand. Admittedly, there is still a long way to go before we will see this kind of machinery in every mine around the world, however, one step at a time, we will see the onset of the transition. The battery system has improved dramatically over the last 5 years, and with the flux of investment into R&D the market will only continue to redefine the future of mining.
References
https://krannich.com.au/abb-2mw-electric-vehicle-chargers-could-revolutionise-the-mining-industry/
https://www.popularmechanics.com/technology/infrastructure/a30873539/electric-mining-truck/
https://www.voltra.net.au/
https://www.voltra.net.au/about-us/
https://www.artisanvehicles.com/a4/
https://www.miningmagazine.com/tag/battery-powered-mine-vehicles
https://www.epiroc.com/en-au/products/loaders-and-trucks/diesel-loaders/scooptram-st14
https://esdnews.com.au/electric-cars-can-clean-up-the-mining-industry-heres-how/
https://www.azomining.com/Article.aspx?ArticleID=1459
https://www.mckinsey.com/industries/oil-and-gas/our-insights/metal-mining-constraints-on-the-electric-mobility-horizon
https://www.club4x4.com.au/more-electric-vehicles-being-used-in-the-mines/
https://macleanengineering.com/products/mining/electric-vehicle-series
---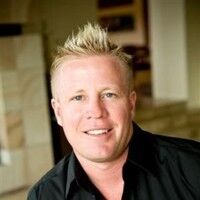 Troy Adams is the Managing Director of Global Road Technology (GRT) Specialising in Engineered Solutions for Dust Suppression, Erosion Control, Soil Stabilisation and Water Management. A pioneering, socially conscious Australian entrepreneur, Troy Adams is passionate about health and safety and providing innovative solutions that are cost-effective to the mining industry, governments and infrastructure sectors. Troy is also a tech investor, director of companies like Crossware, Boost, Hakkasan, Novikov and more.